Post by thesolution on Jan 11, 2016 17:04:52 GMT -5
Graeters Mocha Chocolate Chip
Graeters Mocha Chocolate Chip is labeled as " Mocha Chocolate Chip is made with luscious coffee ice cream and be-chunked with our legendary chocolate chips. Of this, even Seattle's most discerning coffee baristas approve of this handcrafted ice cream flavor!". Coffee is one of my favorite things in this world. Knowing Graeter's and how they pack incredible signature chocolate chips into this offering made it stand out to my eye. How good is that mocha ice cream, and how does it pair with the chocolate chips? Lets soon find out.
The coffee ice cream is thick, dense, and provides a mild coffee flavor. For those who enjoy dark coffee and avoid lighter/blonde roasts it may set you off a bit. For those who like a lighter flavored coffee this will be right up your alley. It reminded me of Cafe Au Lait & Beignets from New Orleans Ice Cream company with a thicker density. Graeter's French Pot Process makes top notch ice cream, and why the company provides some of the most consistent ice cream on the market for a good base and thick mix-ins.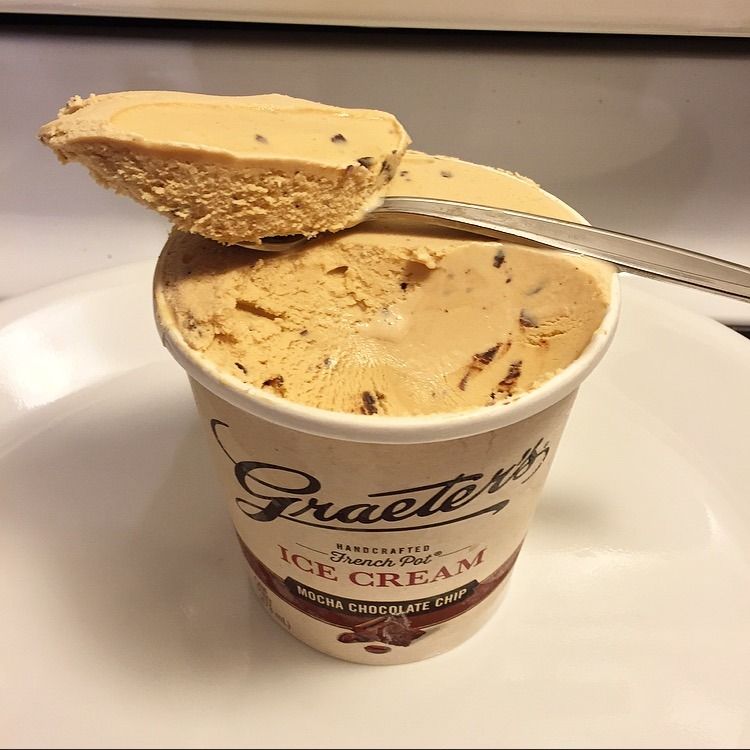 The Coffee ice cream could have held its own even with no mix-ins (if you like a lighter coffee), but any flavor can be made better with some of Graeter's signature chips. These delicious broken chunks of chocolate add tremendous texture without adding the rock-hard density the ones from other companies tend to do (Ben & Jerry's Fudge Chunks for example). These pieces are left behind long after the ice cream has melted away, which gives the tail end of each bite a rich, milk chocolate finish. The consistency and texture of these chocolate chips separate itself from others on the ice cream market. Some Chocolate Chip pieces can vary upward to an inch in size.
Mild coffee fans will rejoice if they decide to scoop this one. The subtle coffee flavoring enhances as you work down the pint as it is loaded with thick chocolatechips. The large milk chocolate chips provides a great one two combo with a coffee base. This reminds me of scooping Coffee Coffee Buzz Buzz, Brewed to Matter or Talenti's Gelato Coffee Chocolate Chip. Provide a thicker ice cream base, and massive size mix-ins and you have a great scoop.
Grade: B+
Found: Giant Eagle
Erie, Pennsylvania.