Post by thesolution on Jan 11, 2016 16:53:26 GMT -5
Ben & Jerry's Chunky Monkey

Ben & Jerry's Chunky Monkey is labeled as "Banana Ice Cream with Fudge Chunks & Walnuts." While very basic on paper this ice cream is tipping 300+ calories per serving. Ben & Jerry's does not offer a lot of banana based ice cream flavors on their line making this unique. I have only had a great ice cream banana in Wegmans Banana Peel-N. Let us not forget a very good one in 7-11. I would love to see how this one stacks up.
Right away the banana base has a slight artificial taste that most banana flavored products suffer from. While it is very minor it is something to note. This is not pure or dense like 7/11 and Wegmans offer. The ripeness of the banana flavor shine in those two other brands that I rank my favorite over this Ben & Jerry offering. The creaminess and density of the banana ice cream is good, but has room for improvement.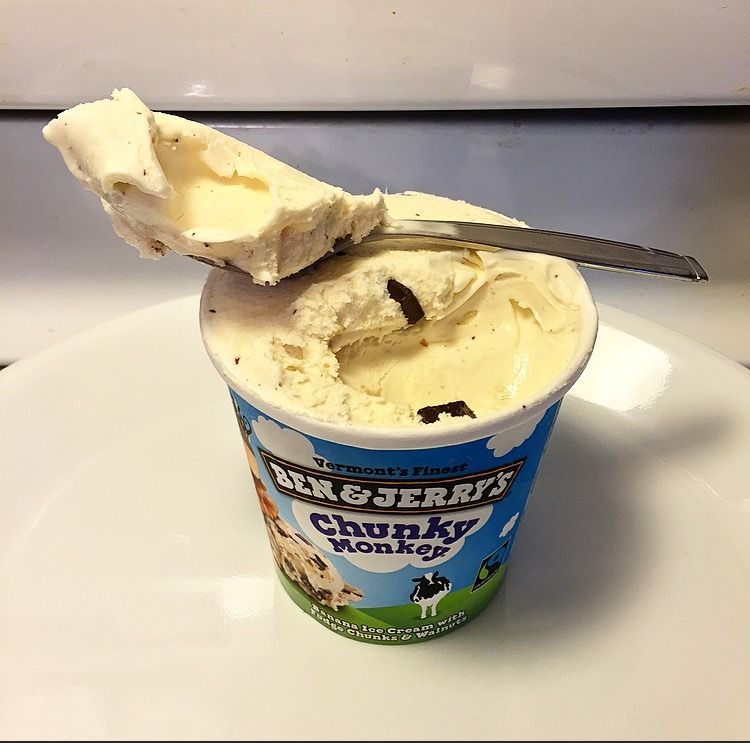 Ben & Jerry's offers Fudge Chunks and Walnuts in their banana ice cream base. The Fudge Chunks are massive in size, but they are a bit jaw breaking at the same time. They provide a decent chocolate texture and taste, but B&J needs to find a way to make this mix-in much softer like other brands out there that include massive chocolate mix-ins. I am not the biggest nut fan, but the Walnuts added a nice touch to this pint. The large chunks of walnuts were plentiful and became involved in every few bits as you dwindled down the ice cream. These walnuts are soft and chewy walnuts are more than welcome to stick around or be in other B&J Pints.
Overall I went into this pint not knowing what to expect and left with an average of the road grade. The banana base is decent, but not a top tier offering that some other companies provide. Ben & Jerry's could enhance the richness and ripeness to make it a great flavor. The Fudge chunks are harder than rocks and you may scratch your teeth trying to break through them. The walnuts on the other hand were much softer, provided a great compliment, and need to be involved in more B&J offerings.
Grade: C+/B-
Found: Wegmans
Erie, Pennsylvania