Post by thesolution on May 24, 2015 8:16:43 GMT -5
New Orleans Ice Cream Co. Cafe Au Lait & Beignets
New Orleans Ice Cream Co details this pint as "The Famous Taste Of The Old New Orleans French Market, With Cold Brewed Coffee & The Toasty Flavor Of Scalded Milk, Loaded With Real Beignet Pieces, & Finished With A Sugary Swirl". Being a coffee lover I was very excited to dig into this pint. I have read at least a dozen positive reviews, and some labeled it as a very unique combination. All points aside my favorite Coffee ice cream to this date is Jeni's Black Cat Espresso. Due to utilizing whole beans right into the base the flavoring was top notch. Could this be a quality product compared to B&J Coffee Coffee Buzz Buzz, or various other Tiramisu (HD/Talenti) that have a coffee resemblance? Lets find out!
Upon popping the lid you are presented with a fine looking coffee base and a small white little clump/swirl which is the sugary swirl. When I had my first bite I was taken by surprise. The cold brewed coffee is a mild tasting base that is nothing over the top but very subtle. There is no bitterness, just a creamy aftertaste of the scalded milk provided in the pint. This base is good, not overpowering, but provides a very smooth texture. I will have to say the density of the other Pints i have had including this one does not top Jeni's Chicago espresso beans (which are incredibly dense and flavorful).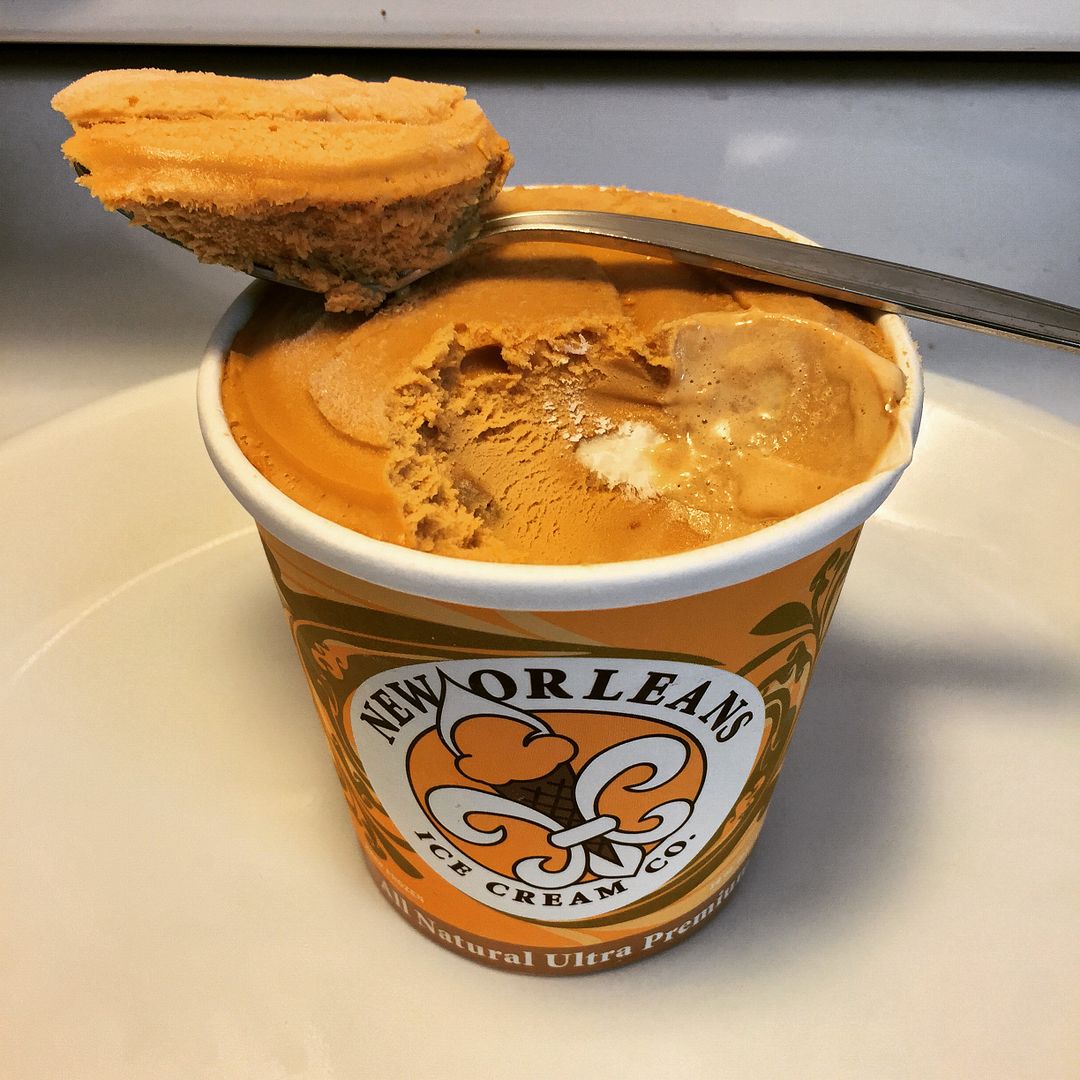 The mix-ins of the Scaled Milk, Real Beignet Pieces and Sugary Swirl really help enhance this pint. What is a beignet? Very similar to a Cinnamon Bun but a donut with a new orleans twist. The inclusion of the beignet mix-in are small chunks scattered throughout the pint with a very soft and chewy texture. The sugary swirl reminded me of Sam's Choice Coffee and Donut's ice cream swirl. Dense, sweet, thick, and luscious in flavor that left a lingering aftertaste. The scaled milk is spread throughout the pint and enhances the mild coffee base.
Overall this is a winner. New Orleans Ice Cream Company did a fantastic job on putting together quality ingredients to provide a tasty coffee dessert. What is coffee without a bit of sweetness and milk? To the typical american that is unheard of! New Orleans decided to toss in the scaled milk to enhance a mild coffee cold brewed base. For those who like medium or blonde roast coffee beverages this will be right up your alley. New Orleans complimented the coffee base with a beignet donut dessert cut up and spread throughout the pint. The sweetness and softness provided by the dessert on top of a delicious thick, hard, and glazed swirl rounded this pint off. New Orleans Ice Cream Co. did a great job and there is a reason why people rave over this flavor.
Grade: A-
Found: Ice Cream Source