Post by thesolution on Oct 12, 2013 17:05:24 GMT -5
Dairy Queen Pumpkin Pie Blizzard
Tis the season and at Dairy Queen this is the blizzard of their month for October.
Now I have had Handels Pumpkin, Coldstone Pumpkin, Graeters Pumpkin, and Ben n Jerry's Pumpkin Cheesecake so i can rate all of these towards the end of the review with my top 5. Seeing most of them deal with Pumpkin, Graham Crackers, and some with cinnamon/nutmeg these should all go hand in hand to give you the rundown on the best pumpkin's you could try (based off my taste buds).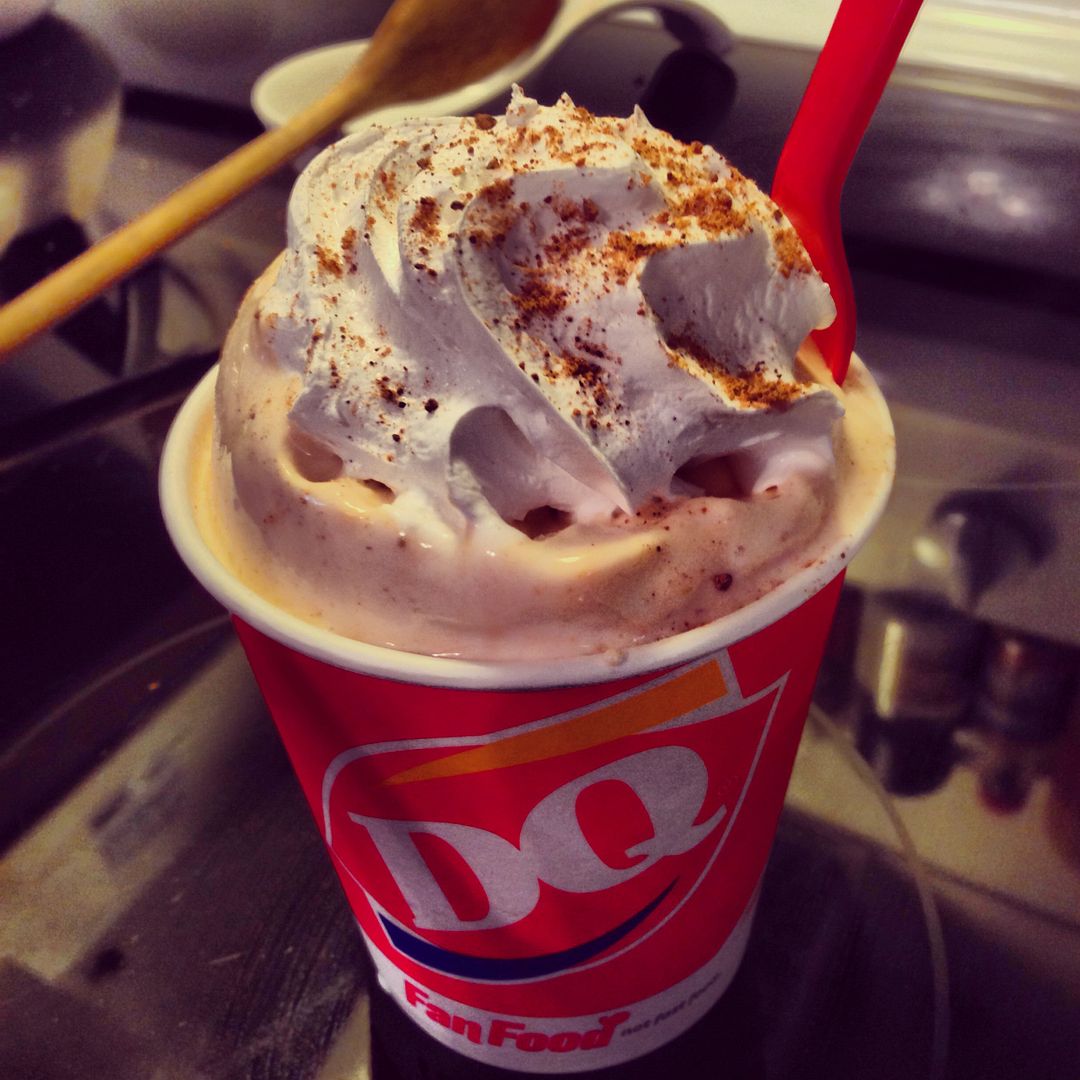 Upon grabbing the Pumpkin Pie Blizzard its their generic Vanilla Soft Serve, Libby's Pumpkin, Graham Cracker Pieces, Nutmeg, and Whipped Cream combined together. When the lady was making my blizzard i don't know if she was a deer in headlights after she saw me tip her a few bucks, but she immediately filled my blizzard with multiple layers of graham cracker pieces, libby's and soft serve that left for a very thick and creamy blizzard. The overall texture is on the thin side due to it being a soft serve, but that is to be expected. The whip cream is generic as expected, but the little touch of nutmeg brings out a bit of the pumpkin flavoring. The overall amount of graham cracker pieces really aided this pint due to the basic libby pumpkin and vanilla base which is good and comparing to Ben n Jerry's IMO.
After a bite or two it was pretty present that mine was loaded with graham cracker pieces which made it much more enjoyable. I am a mix in die hard and the amount of crunch it offered with the dense pumpkin flavoring was great as a compliment but lacked a bit of cinnamon or a cinnamon swirl that you kind of taste in other pumpkin ice creams. BnJ has a better overall hint of pumpkin, but the amount of graham cracker pieces in here (Dairy Queen) trumps the graham cracker taste you get in the BnJ Pint. The overall flavoring i would say beats out Graeters which i thought was subpar, but does not top Coldstone or Handels which is still King IMO.
As you get down into the pint you are literally scooping up flakes and chunks of graham cracker pieces that my have not been broken up from the blizzard machine during the mixing process and you still get the soft pumpkin flavoring from the vanilla base and pumpkin mix-in. The amount of whip cream is just about gone, and the nutmeg that is sprinkled on top is non-existant at this point, but if you are a die hard or enjoy pumpkin then you will still enjoy the ice cream, which i did. Now, do i think DQ is a good buy? Overall i would have to place this right in the center of the pack for my overall pumpkin ratings. Handels is the best without question. Dense flavoring, thicker base, and a cinnamon/marshmallow/nutmeg flavoring that is to die for with good graham cracker aftertaste. Coldstone would be my #2 again the base is great and the cinnamon/nutmeg after taste is very strong, but lacks the graham cracker flavoring but many will add this as a mix-in to a creation which most of the Blizzard and Handels mix-ins offer (same with bnj). Ben n Jerry's was not bad, it did have a little bit of both the graham cracker and cinnamon but it lacked in all departments. Graeters was just disappointing, they thrive off the mix-ins and without them it made it a pretty bland buy.
1. Handels
2. Coldstone
3. Dairy Queen
4. Ben n Jerry's
5. Graeters
Found: Dairy Queen Erie, PA
Score: B+